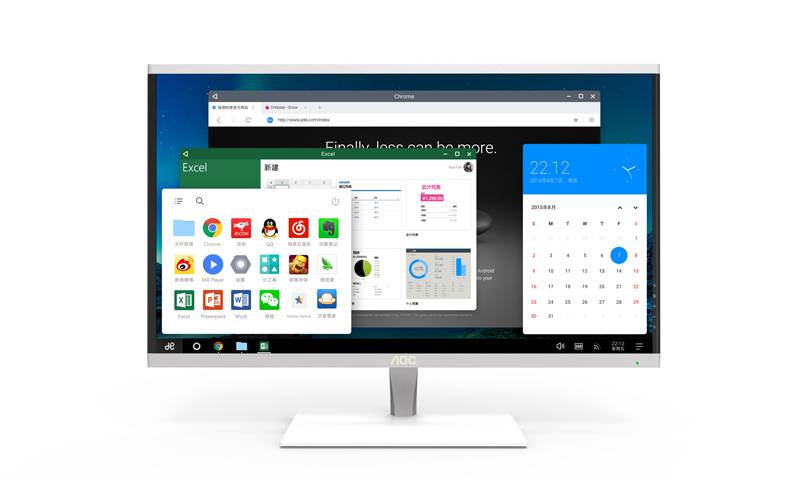 This one will catch you a bit by surprise. AOC, one of the global leaders in LCD and LED displays, has partnered up with Jide Technology to put out an all-in-one (AIO) PC powered by Jide's Remix OS. If you haven't been reading us lately, Remix OS is a heavily tweaked variant of Android that allows for multi-window, multitasking processes. Apart from the Remix Mini, this is probably one of the first PC devices to feature Remix OS as its software platform.
At the CES Asia tradeshow in Shanghai, the Remix OS AIO is now on display and available for all the world to see – a PC platform completely powered by Remix OS. The specs, of course, will still lean towards Android infrastructure – like the Amlogic S905 chipset that features a 2GHz quad-core ARM Cortex-A53 processor and a 5-core Mali-450 GPU. This is supported by 2GB RAM, with a choice of 16GB or 64GB internal storage variants.
Because of the chipset, the PC is able to output FullHD (1080p) to the 24-inch LCD display. The processor and GPU is also able to provide 4K decoding of ultra-high definition videos. It works basically like any all-in-one PC. You can connect a keyboard and mouse (or sync wireless ones) and work on it like a PC, complete with keyboard shortcuts. The plus factor is that it runs on Android, and all your apps and games are available via the Google Play Store. Multi-window processes allow you to run multiple apps at the same time.
The device is also able to take in external storage through the multiple USB ports available. This means file creation and transfer is still as seamless as you have it in any PC, maybe even better. "We're really excited about this partnership with Jide Technology and Remix OS because we believe the AIO will go far in bringing Android PCs to the enterprise," says Ren Jingshun, AOC's B2B General Manager. The cost savings, the familiarity and the productivity experience you get with the AOC Remix OS AIO will really be advantages for enterprises."
It looks like the Remix OS AIO will be available in China starting June or July of 2016. No information is available yet on the pricing, so we wait with baited breath to see if this will be much more affordable than standard AIO PCs.