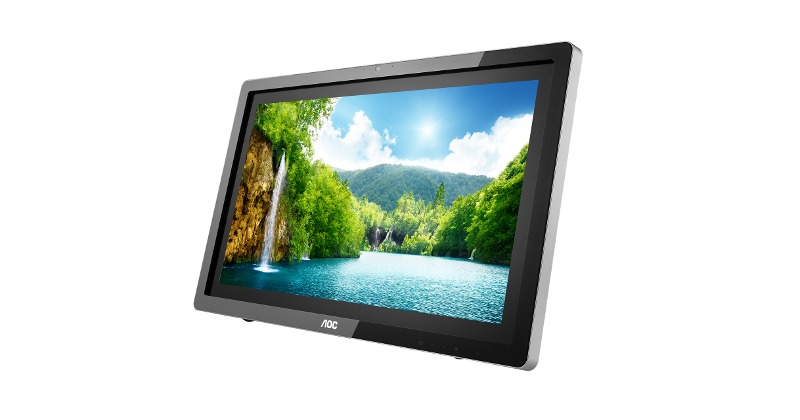 AOC might not be at the top when it comes to Android devices, but its budget prices and brand give it a bit of edge over other low-cost options. Now it is trying to bring that combination into a new device segment with the A2272PW4T and A2472PW4T all-in-one Android PCs.
All-In-One or AIO PCs are nothing new, even in the Android market. From late 2013 to early 2014, we've seen a couple of big brands like Lenovo, HP, and Acer announce one or two of these giant Android slabs masquerading as desktop computers. AOC wants in as well, but it will be bringing along its own brand of low-tier specs with matching low-cost price tag.
Don't go looking for performance or you will be disappointed. Though large, these beasts aren't built to take a beating. Inside you will find an NVIDIA Tegra T33, not even a Tegra 4, running at 1.66 GHz. It does have 2 GB of RAM to keep things running smoothly. 8 GB is all the data storage you will get unless you add some via the SDHC slot. The A2272PW4T has a 22-inch IPS screen while the A2472PW4T boasts 24 inches. Both, however, only support 1920×1080 resolutions. It doesn't come with a keyboard nor a mouse, which you'd think is quite normal for this type of device. The kickstand supports multiple angles, making it ideal for watching, browsing, or even using as a tablet. Now if only it came with a Wacom or S-Pen stylus. Perhaps the biggest wart on this pair, at least when it comes to using Android itself, is that both will arrive with only "Android 4.x Ice Cream Sandwich" out of the box. We're hoping that the X means that AOC has plans to upgrade that soon to even just Jelly Bean.
While these two AOC All-In-One Android PCs offer less than leading brands, they also cost less. The A2272PW4T costs $299.99 while the A2472PW4T has a price tag of $399.99. At the moment, it seems that neither are available in the market yet and AOC hasn't listed online resellers that will be carrying these two gigantic devices.
SOURCE: AOC (1), (2)
VIA: ZDNet