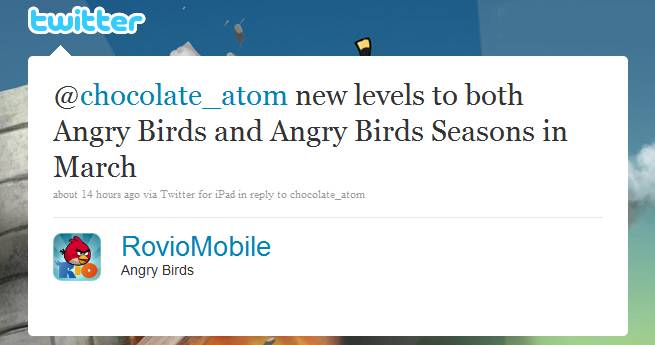 Rovio Mobile has tweeted that Angry Birds will receive new levels to Angry Birds and and will likely include some Spring themes in Angry Birds Seasons this March. The news of new levels follows up on news that Angry Birds will launch a custom RIO level, based on the Fox animated feature RIO, and will be making it's way to other gaming platforms including PC and the PS3. Angry Birds Seasons, the Holiday themed follow-up to the popular app, released a 25 level set for winter during the holidays to go with it's 45 level Halloween theme, as well as a Valentine pack that was released for lovers everywhere earlier this month. And with our weather now moving towards an early Spring, will we likely see some themes celebrating Easter, Saint Patrick's Day, and maybe even March Madness?

The Angry Birds phenomenon which was has not only taken over both Android and iPhone platforms to become the most successful game app in history, but has made it's way obsessively into pop culture. People can't get enough of flinging birds at those evil egg stealing pigs, which one "tweeter" noted bear an uncanny resemblance to a certain couple of muppets:
Fans are everywhere, including in chamber orchestras who are now performing the theme live on stage. Users are even tweeting about their progress, as one recently noted how ironic that they were flinging birds to destroy the Hollywood sign level during the Oscars. Even my wife has had to take my phone away from me as we're watching TV because I can't get enough of these foul fowls! Clearly, Angry Birds is here to stay. And as long as there is a Season to celebrate, Angry Birds will have fresh levels to obsess over.
But the question really is, how far can this juggernaut go?