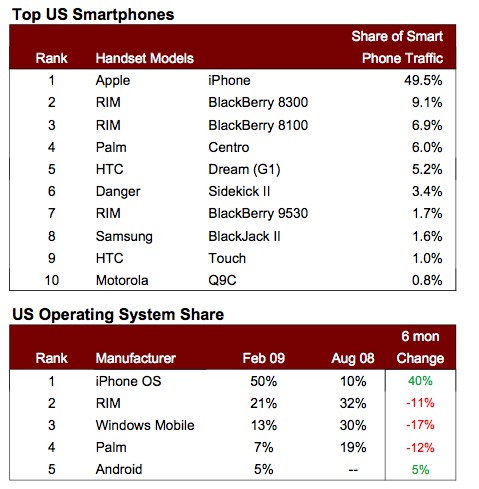 Statistics were recently released by Admob Mobile Metrics, a mobile advertising marketplace. The use of Android as the preferred operating system for mobile devices is up!


Admob, was founded in 2006 when entrepreneur Omar Hamoui needed traffic information for his mobile website. Through the company he developed, their mission is "to provide the business models, services, tools, and data fundamental to the development and growth of the mobile internet." The results of mobile operating system statistics – awesome.
Up 3% since January, Android now captures 5% of web traffic on smartphones in the U.S. What is also worth noting is the drop of Windows Mobile (-17%) and RIM (-11%). With no information available for Android from Aug 2008 when previous information is compared, the 5% increase over the last 6 odd months could see Android catapulting itself into the serious players of mobile operating systems very soon. Jolly good news really.
[via Droideo]