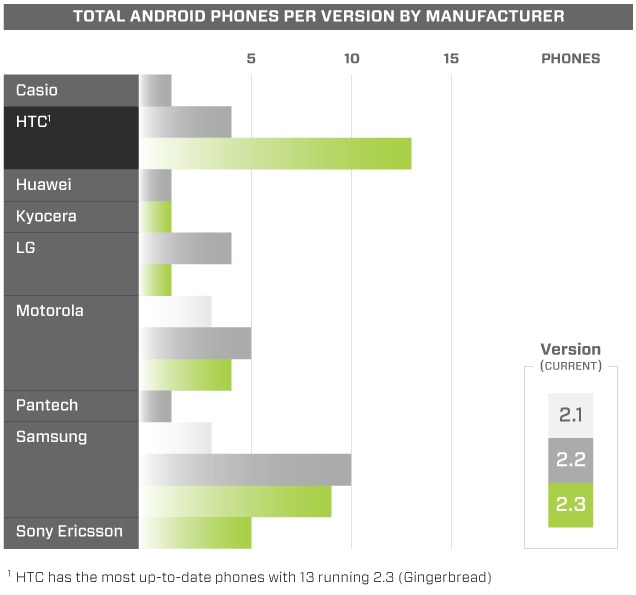 Remember back at Google I/O when the folks at Google announced an alliance between manufacturers that would all but guarantee you'd have updates sent to your Android devices up to and including 18 months after its inception date? Have you heard anything about that group since? Not just a whole heck of a lot, right? Well check it out, the folks at AndroidAndMe have done a study taking into account every released device at this very moment and have found which devices have the most current OS (and we're talking only about smartphones here, not tablets), that OS being Android 2.3 Gingerbread right this moment. What they've found, first of all, is that HTC is in the clear lead with 13 devices on Gingerbread while Samsung is the closest behind with 9 devices on Gingerbread in total.
Lets not forget Sony Ericsson and Motorola who sit down next in line with 5 and 4 devices respectively on Gingerbread, then noting that Pantech has none, Casio has none, and Kyocera is tied with LG at 1 device in total. Most groups have more Android 2.2 FroYo devices than they do Gingerbread devices, with the grand exception being, again, HTC with 9 more devices on Gingerbread than on FroYo. Both Samsung and Motorola have one more device on FroYo than on Gingerbread while both Kyocera and Sony Ericsson's entire collection (1 and 5 respectively) are updated to Gingerbread. Because of this last factoid you could argue that it's Sony Ericsson and Kyocera, not HTC, that's winning this update battle.
On the other hand, per the original announcement of who would be in the Update Alliance in the first place, the following manufacturers are the true members:
HTC
Samsung
Sony Ericsson
LG
Motorola
The big four carriers, red, yellow, blue, and pink, are all included in the carrier list of members of the Update Alliance, along with Vodafone and, of course, Google (though Google isn't a carrier, they're certainly on the list of those working to bring updates asap to devices.) How Google is working to do this, and indeed how any of these groups are working to do this is still a mystery.
As far as how many phones, by manufacturer, have received an update which were either out at the time of the announcement or have been released since, the numbers are much closer to one another, HTC still in the lead with 14 out of its 24 devices receiving an update, Samsung in second with 13/33, Motorola next with 10/25, LG after that with 9/15, and Sony Ericsson in last place with 4/14. These are the manufacturers that are in the alliance.
Finally there's one big gigantic undeniably large and in charge list in the gallery below courtesy of AndroidAndMe which contains every single Android device out right at this moment. Have a look at it and let us know what you think of or what you know of the Android Update Alliance thus far. Seem like a successful initiative to you?
[via AndroidAndMe]