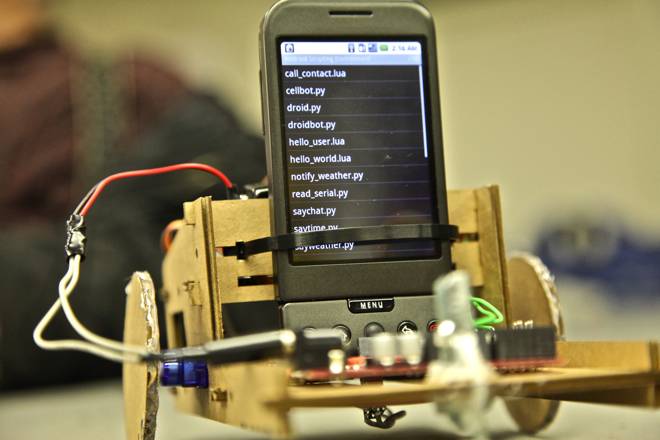 It's not unheard of that Android smartphones can be used to control other devices, say with the GMote app for remote media playback on your computer.  But Tim Heath and Ryan Hickman, a duo of web engineers, are going beyond the "remote control" concept, having built an Android-powered robot with the lofty ambitions of autonomously controlling itself.
Dubbed Truckbot, the treads-equipped robot has an HTC G1 attached to the chassis, functioning as a brain.  While the duo's still developing, currently, it's able to navigate and turn in specified directions, utilizing the actual phone's compass for guidance.  Opting for their own kit, here's a complete list of the parts they used, coming out to a grand total of $30.
$16 Bare bones Arduino
$3 Micro servo
$0.25 Hex inverter (handled 3.3v to 5v conversion)
$4 HTC USB breakout board
$3 Mini breadboard
$4 miscellaneous cardboard, strap ties, wires, rear wheel
"Unlike most people out there," says Hickman, "we don't want to use the phone as a remote control. Rather, it becomes the brain of the operation."  You can try your hand with their five-step process, located here, via Wired.