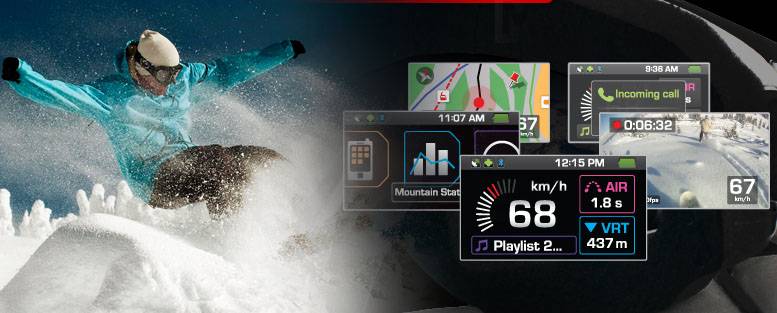 Little GPS gadgets have been a long-time fan for hikers, runners, and skiers, but it looks like Recon Instruments' new MOD Live takes things to a higher elevation. The newest model of wearable computer pairs with your Android phone over Bluetooth to give you a live map of the area, share your run online, and access music and texts without reaching into your coat. The information is sent to a tiny screen that lives on the inside of your goggles.
This isn't the first ski/snowboard computer that the company has produced, but it's easily the coolest. The MOD Live gets all of its wireless goodness via the HQ Mobile app on Any Android phone.  Liva statistics include your current speed, jump distance and airtime, overall run vertical, altitude, distance, and standard stopwatch features. Built-in navigation guides you to the nearest ski resort or the starting point for that new run you wanted to check out. You can even connect a sports cam to take live shot or – awesome – use it as a live rear-view camera. An upcoming SDK will allow third-party devs to create even more software to take advantage.
Check out the official video below:
A Bluetooth remote allows you to navigate through the on-screen menus, or just control music playback. The MOD Live costs $399 – not cheap, but this is some extremely specific tech here. A version of the wearable screen without Android connectivity will set you back $299, and goggles aren't included in the purchase. But then, you're going to pair them with your $500 Oakleys anyway, right?
[via Gizmodo]