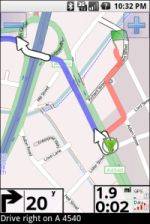 Android now has fully audible real-time turn-by-turn navigation with an application called AndNav2. This one is now only a public Alpha, but due to all the experience gained in AndNav1 this version is actually in a really solid state. AndNav2 is free, for the time being anyway.
Unlike Garmin services there is no monthly charge or need to download extra map pack upgrades. The only way they can maintain a free application is by placing ads into the applications itself and through donations. It's a very small price to pay to keep from having to purchase this application.
Right now AndNav2 supports Contacts/POI/Address-Search and many more, but even the recently released free Text2Speech library by Charles L. Chen giving users fully audible turn-by-turn directions. AndNav2 is currently only available in the United Kingdom, Germany, Ireland, France, Denmark, Spain, Switzerland, Italy and Austria.
[youtube]http://www.youtube.com/watch?v=5LM5ju-6pnU&eurl=http://www.googleandblog.com/free-android-navigation-with-andnav2/3402/&feature=player_embedded[/youtube]
[Via GoogleAndBlog]