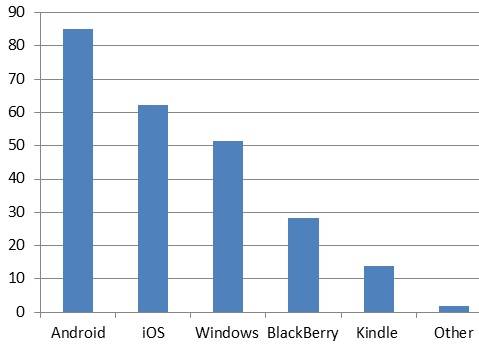 A new study shows that the turnaround time for Android development was quick when compared to the competition. About 40% of Android Developers say they finish apps in about a month, a slight lead over other platforms. Though Android is diverse, Developers also say the benefits outweigh the work it takes to scale across devices.
 Though more Developers say they can finish apps quicker on Android than other platforms, the lead isn't vast. About a third of Developers say they finish apps on other platforms in a similar timeframe, with 36% saying they can do so on iOS, and 34% for Windows Phone. Complimenting Google's push for tablet development, 84% of Developers are targeting Android as their tablet platform.
In regard to tablets, about 62% say they target iOS, while 52% also go for Windows. Amazon's Kindle gets about 14%, which shows in their App market. Blackberry makes a surprise appearance for tablet development, with nearly 30% of Developers saying they look to it for developing apps. This data shows that Developers are seeking a truer cross-platform foothold, and that the gap between iOS and Android is likely closing in regard to apps.
Though Android has its benefits, it also has drawbacks. Developers note they spend a lot of time on optimization and scaling to a variety of devices. Google announced changes to help with that at I/O last year, with a tool to help Developers see how their apps would display across various devices, and make changes as necessary (then see them in real time).
Source: Evans Data
Via: Fierce Developer