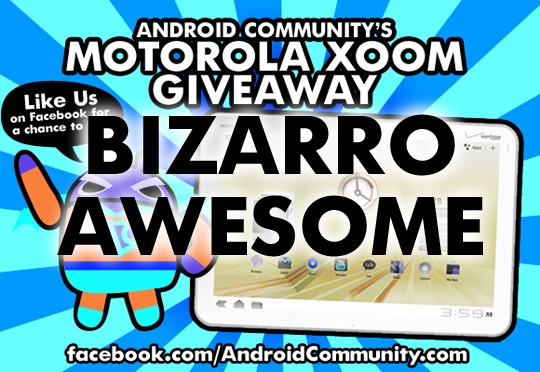 What's that? You're completely unaware that Android Community is giving away not one, not two, but THREE Motorola XOOM tablets? That's right, our pals at NVIDIA have busted open their generosity boxes and worked with us to give away three XOOM tablets here on Android Community and two more over on our sister site SlashGear. The entry rules are magnificently simple, two or three clicks and you're in – everyone has an equal chance at winning – what are you waiting for?!
The following is the shortened ruleset that tells you what you must do in order to enter. To see the FULL ruleset including who exactly's eligible to win as well as what the limitations of the contest might be in strange circumstances, head over [here]. Otherwise get your entering boots strapped up and win yourself a XOOM!
To win one of these fabulous tablets, you must:
1. "like" us on Facebook: facebook.com/androidcommunity.com
2. Comment on the wall saying something nice like "Android Community and NVIDIA have no less than dual-core generosity!"
– what you say does NOT dictate how we choose the winners. All entries are considered equal, no matter the text. It would be nice though for you to be kind and thoughtful!
Contest begins April 11, 2PM PST, and ends May 1, 2PM PST. A winner will be announced every Monday @ 5PM PST here in the main news feed and at our official Facebook page.
WINNERS will be given the opportunity to submit a review of their XOOM and have it posted on the front page of AndroidCommunity.com! *Reviews may be edited or modified before publication and are considered works for hire under the 1976 Copyright Act. Submissions will be ineligible for payment or remuneration.
Contest provided by SlashGear/Android Community. Prizing provided by NVIDIA. Any questions regarding this contest should be directed to [email protected]