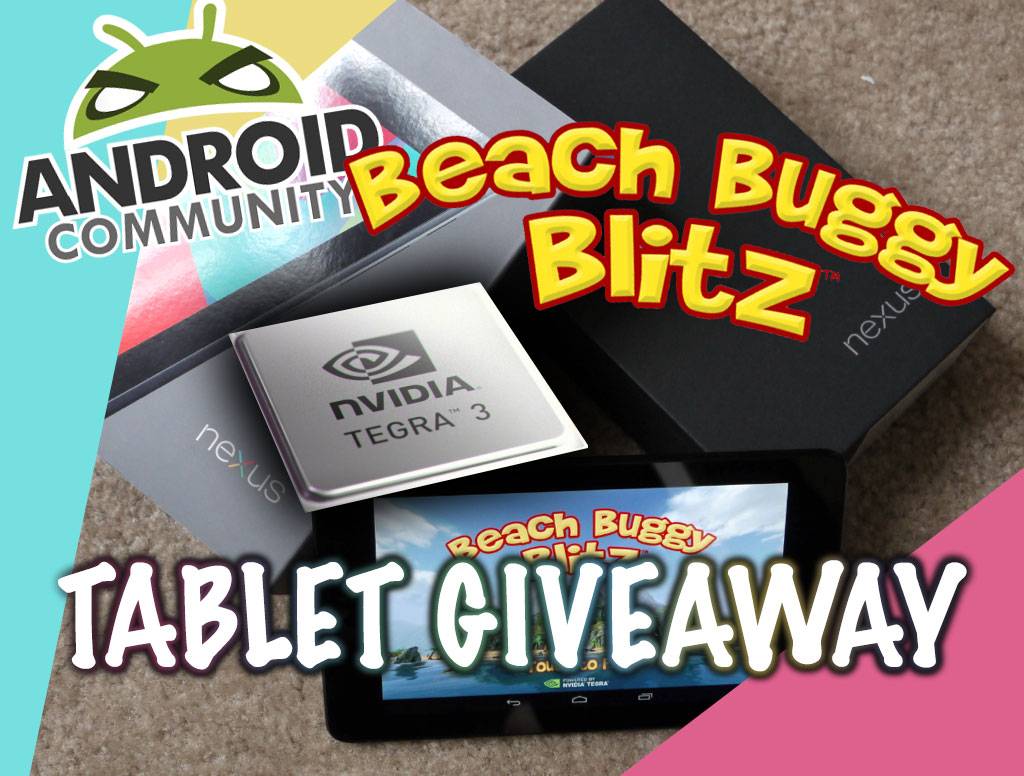 An awesome new game has just cruised into the Google Play Store and NVIDIA TegraZone and it's called Beach Buggy Blitz from Vector Unit. If that sounds familiar it's because they brought us two addicting racing games in Riptide GP and Shine Runner. Yesterday this awesome game was released and to help celebrate we are doing another one of our awesome Tegra tablet giveaways thanks to NVIDIA and Vector Unit. Read on below for your chance at a Nexus 7 tablet or the ASUS Transformer Prime and keyboard dock.
Just like a few other awesome games as of late this awesomely addicting game with fun levels and lifelike graphics is an exclusive to the NVIDIA Tegra 3 set of devices. Using the power of the Tegra 3 the graphics come to life, water ripples across your screen and the entire environment is destructible and amazing. The game is essentially something like Mario Kart for mobile only the graphics are better, the music is fun and upbeat, and you can play for hours on the couch. The developers from Vector Unit describe this awesome game as this:
Drive your hot-rod beach buggy as far as you can into the uncharted depths of a mysterious tropical island. Swerve and smash through a gorgeously detailed and completely destructible world packed with Tiki statues, grass shacks, giant crabs and lava monsters. Explore sun-swept beaches, secret cave shortcuts, fog-shrouded swamps and temples, and erupting volcanoes in an action-packed quest of discovery and mayhem!"
Sounds pretty fun right? Before we get started on the Giveaway details you'll want to take a peek at our hands-on video with Beach Buggy Blitz below.
[vms cf426067cfd2246bb5ff]
The game is available right this minute over at the Google Play Store, and the NVIDIA TegraZone as usual. If you are interested you'll want to run down and give it a try today. Then for those that don't have a Tegra 3 device to enjoy this awesome new NVIDIA exclusive we'll be giving away three brand new tablets.
Yup, you have a chance at one of 3 tablets this week. We will be offering up two Google Nexus 7 16GB tablets, as well as one ASUS Transformer Prime and keyboard dock combo to give to a few lucky readers. If you've been eying an Android tablet you can't go wrong with a Tegra 3 powered one so take a chance and enjoy the giveaway by following the details below.
Rules:
It's quite simple – all you've got to do is show your NVIDIA love:
1. Head to [this Android Community forums post] — and if you don't yet have an account, register here.

2. Comment on your favorite NVIDIA Tegra 2 or Tegra 3 device on the market, your favorite TegraZone game, or a game you'd love to see come to Android. These can be games and devices that are out now or will be out soon – and you can find a vast collection of both [here in our Tegra hub] and be sure to say WHY you love or want it!

3. Sit back and cross your fingers!
This giveaway starts on Friday, September 7th, 2012 and runs until Friday, Sept. 14th at midnight. We'll pick a collection of our favorite entries and from that set we'll choose three winners at random – we'll announce the winners on Monday, September 17th in the forums and right here in this original giveaway post!
Update: Winners picked! Hit the forums to see if you're a lucky winner!
Competition is open to residents of the US only, over the age of 18. One entry per person. Family members of NVIDIA, ASUS, Google, Vector Unit, and SlashGear/Android Community are not permitted to enter. Competition entries are only accepted via the specified Android Community forum post; entries left in the comments section of this or any other post will not be recognized.

The winners will be contacted by an Android Community/SlashGear staff member IN THE FORUMS upon being selected and will be expected to respond to that staff member; they will be expected to respond within 24 hours else their prize may be forfeit and another winner selected.

Editors decision is final and no correspondence will be entered into. Winners agree that their name and details of their entry may be used for promotional purposes by, but not limited to Android Community, SlashGear, NVIDIA, and Vector Unit.
Prizes consist of two 16GB Google Nexus 7 tablets, and a Transformer TF201 Prime tablet and keyboard and that's it! There are no other alternative for prize winners unless this prizes become unavailable, in which case Android Community reserves the right to substitute another prize of equal or greater value. Giveaway provided by SlashGear/Android Community. Prizes provided by NVIDIA and Vector Unit. Any questions regarding this giveaway should be directed to giveaway [AT] slashgear.com.