In case you haven't heard all of the commotion, Google officially announced Android 4.2 earlier today. We touched on some of the new features right after Google's announcement, but now that things have calmed down a bit, we can go into further depth. Read on to find out about some of the brand new features found in Android 4.2 Jelly Bean, but before you do, prepare yourself – some of the new features are pretty awesome.
Photo Sphere and Gesture Typing
Easily two of the coolest features in Android 4.2 are Photo Sphere and gesture typing. We've already talked quite a bit about Photo Sphere, but the basic idea is that Android 4.2 lets you use the camera on your device to take awesome-looking 360-degree images. The video that Google's Hugo Barra posted earlier today makes the process of creating a Photo Sphere look relatively easy, and the best part is that the 360 images are constructed as JPEGs, making sharing with friends and on social networks painless. Have a look at the demo video below to get a better idea of what we're talking about.
Next we have gesture typing, which is looking to streamline the way we compose messages in a serious way. With gesture typing, you gain the ability to simply swipe your finger from letter to letter on the keyboard, lifting your finger once the word is completed. Once you do that, a space in the text will be inserted for you, meaning that you can go right back to typing the next word. Still not streamlined enough for you? No problem, as Android 4.2 will even attempt to fill in the rest of your sentence for you, suggesting words that might fit. That way, you could potentially type a few words and select the rest of the words in your sentence from a list of suggestions.
Multiple User Accounts
Photo Sphere and gesture typing are certainly exciting, but so are multiple user logins. Gone are the days of having only one Google account per device (on tablets at least), as Android 4.2 will allow tablet users to store multiple user accounts on their slate. Each user can have their own background image, home screens, and widgets, and all you need to do to switch between accounts is back out to the lock screen. Definitely a handy feature for households with more than one person using the same tablet.
Wireless Display
Android 4.2 also features wireless display functionality, which we're thinking is a feature that will definitely get some positive attention. The best part is that you only need a wireless display adapter hooked up to your HDMI TV, and you're good to go. Once you've got the wireless display adapter set up, you're ready to begin mirroring content to your TV from any device running Android 4.2. It really couldn't get much simpler, which is why we think it's going to be such a big hit with Android users.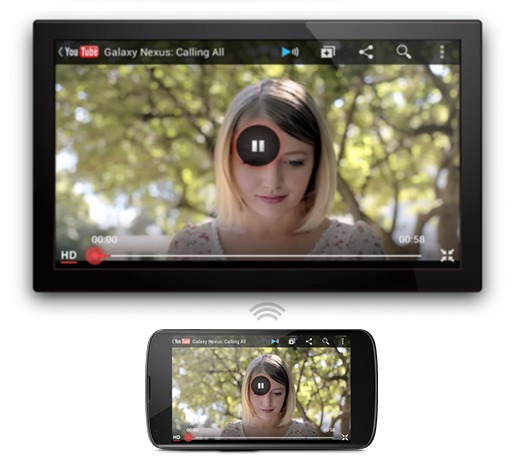 Google Now
Next up we have Google Now, which is getting some updates with this latest Android release. Now you can track things like hourly weather and shipping information on incoming packages with Google Now. Users will also have the ability to check public transportation routes and arrival times using Google Now too. In the mood for a movie? Use Google Now to get information on the movies playing near you, and then go out and enjoy a night on the town.
Notifications
Last but not least, we have notifications. In the drop down notifications menu, we now have a button for quick settings, which obviously let you change settings without having to dig through the app menu first. You'll have more options when it comes to individual notifications too – for instance, in the image below, the user is reminded of their daughter's piano recital, and has the ability to email everyone they've invited to the show right there in the notifications menu.
It seems that Android 4.2 is really trying to hit ease-of-use home, and this is only the beginning. We'll undoubtedly be finding out more about Android 4.2 in the coming days and weeks, so keep it tuned here to Android Community for more information. Keep in mind too that Android 4.2 will be running on the Samsung Nexus 10 and the LG Nexus 4 right out the box, so you've got something extra to look forward to if you're planning to purchase one of those devices!