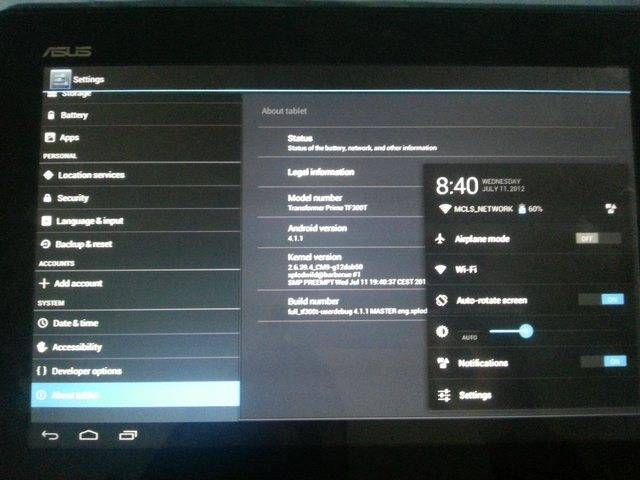 Google recently released Android 4.1.1 Jelly Bean to AOSP. Meaning developers can dive in and start hacking, tweaking, and building ROM's direct from Google's source. We'll be seeing plenty and plenty of ROM's over the next few days (and there is tons already available) but we've just spotted a decently stable experimental AOSP build of Jelly Bean for the Transformer Pad TF300T.
If you're still waiting for the Nexus 7 to be released, and have been enjoying another ASUS quad-core Tegra 3 tablet like the Transformer Pad TF300T you'll be happy to know you can try Jelly Bean right now. This is built and tweaked right from the AOSP, and not the SDK, so it runs pretty great considering not everything works and it's in the early stages.
According to XDA Developer XpLoDWilD this is extremely experimental but they've been making great progress porting over everything for the TF300T. He also mentions this is a preview and will build from CM10 once that is up and running, but will continue to work on this in the meantime. For now the camera doesn't work, volume is stuck at 50%, and HW video playback seems to have some issues. WiFi, Bluetooth, sensors and many other things work just fine though, and users seem to be enjoying this early "preview" of Android 4.1 Jelly Bean for the Transformer Pad TF300T. Obviously you should be somewhat experienced before trying something like this, and make sure to proceed with caution. All the details, download links, and information are available at the via source link below.
[device id=2348]
[via XDA Developers] — Thanks android.indian!