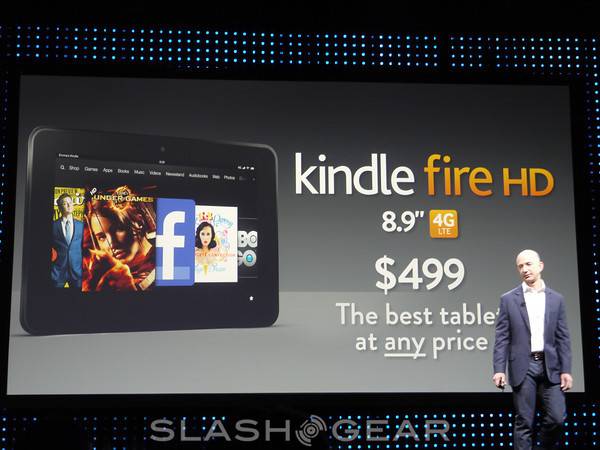 Today at Amazon's Kindle Fire event they had plenty of interesting things for everyone to see. All starting with a brand new 8.9-inch 1920 x 1200 full HD Kindle Fire for just $299. From here on out there will be 3 Kindle Fire versions available so lets take a look at all the details below.
For starters the original Kindle Fire 7-inch model will still be available, only this time around it has been improved a little bit with twice as much RAM, a faster processor (although they didn't get specific) and we can expect 40% better performance across the board. It will now run users just $159 starting September 14th.
More importantly is the brand new Amazon Kindle Fire HD. Today they announced not one, but two brand new HD Kindle Fire tablets. First off I want to mention the awesome new 8.9-inch Kindle Fire HD. This tablet comes with a beautiful and crisp 8.9-inch 1920 x 1200 full HD IPS display, an OMAP 4470 dual-core processor, twice as much RAM as the original, and a 2 megapixel front facing camera.
Amazon wasn't too specific when it came to battery life, size, or any other specs (like what version of Android they're running) but so far this thing looks absolutely stunning. The UI is quite nice although certainly nothing like the Android we know and love. There's tons of new features like X-Ray movies with instant IMDB searching when you pause a show for all the details you'd like and more. They've added all sorts of small changes to the UI we'll get into in a bit. Then both new HD tablets come with Dolby Digital Plus and offers some pretty impressive sound output.
Lastly we have the regular Kindle Fire HD — which will stay at the 7-inch screen size and offers a similar IPS display only 1280 x 800 in resolution, but it still looks great. Both the 7-inch and new 8.9-inch models offer two antenna's for superior WiFi performance and are the first tablets to support the MIMO WiFi standard.
The all new Amazon Kindle Fire HD 7-inch will come with 16GB of storage (beating out the Nexus 7) and will cost just $199. Amazon took a few shots at Google without really saying it, and we have to admit that is a great price. Then you'll also have the option of the larger and impressive 8.9-inch Fire with 32GB of storage for only $299. That isn't all either. The 8.9-inch model also comes with an optional AT&T 4G LTE flavor — the first 4G Fire — and will only run users $499.
The Kindle Fire 7-inch HD is on sale and up for pre-order right now from Amazon and ships September 14th while the 8.9-inch slate will start shipping on November 20th. Sadly there was no mention of a smartphone. Stay tuned for hands-on pictures.