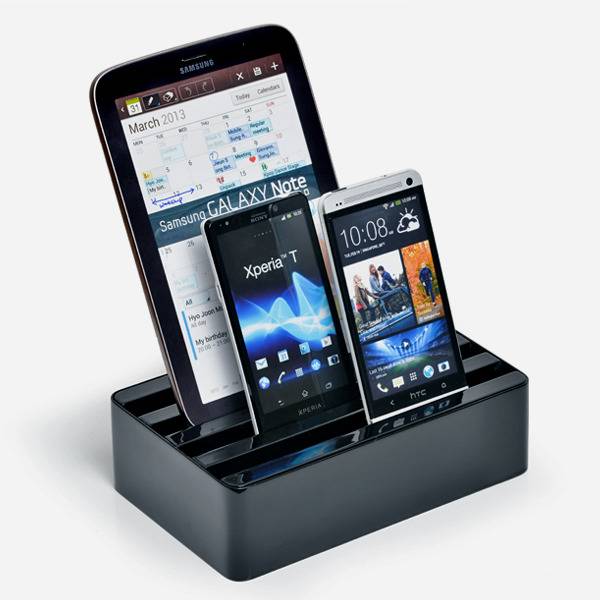 You've probably had your fill of docks and chargers and charging docks, but you've probably met very few that can charge as many as 6 of them in record time. That is exactly the claim that All-Dock is making in its Kickstarter campaign that is nearing a successful end.
All-Dock's selling point comes in two features. The first is the claim to be the world's fastest charger that can juice up a device to 80 percent in less than an hour. This is thanks to a USB hub that, once plugged in, can deliver up to 2,400 mA in each port. And it has a lot of these ports, four or six depending on which style you choose. All-Dock doesn't have dedicated cables that try to accommodate each and every charging port known to man. Instead, it just provides the necessary USB slots to plug in your own charging cable for your device.
But those cables would no sooner be a tangle of frustration if not for All-Dock's other winning property. As the name says, it is also a dock that can sit up your mobile devices. The small version stands at 8.7 in x 4.4 in x 2.4 in and only has slots. Medium gets you only four ports as well and slightly the same size at 8.7 in x 5.6 in x 2.4 in. The biggest of the bunch has 6 slots and comes in a size of 12.4 in x 6.8 in x 2.5 in. In the case of the biggest brother, the slots are wide enough to accommodate even the largest tablet in landscape mode. Best of all, you won't have to see the wires jutting out everywhere. Out of sight, out of mind.
All-Dock has gone beyond its funding goal of $40,000 but there's 7 days left to make give your pledge. A pledge of $59 will land you the smallest version while $89 will give you the medium one. If you prefer the big guy, you'll have to shell out $119. The All-Dock comes in three color options of high-gloss white, high-gloss black, and FSC certified walnut finish.
VIA: Gizmag