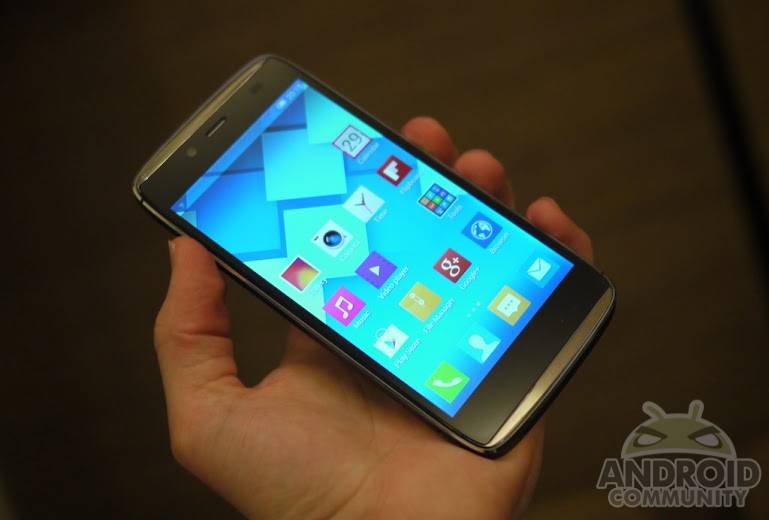 Alcatel and their entire line of smartphones hasn't slowed down. The company is still releasing them by the truckload, but this year they're going to offer some top-tier models as well with a focus on quality. Instead of all mid-range devices. The One Touch Idol ALPHA we mentioned earlier this week is one of those. With a blend between the iPhone and an Xperia, the Alpha had some cool things going for it worth pointing out.
For one, we've got a beautiful aluminum design here, instead of the usual cheap plastics. The entire design with curved edges is a nice change of pace, even if it looks extremely similar to an iPhone on the sides. Then the top and bottom have a new translucent design for notification lights, similar to recent Sony Xperia models.
The Idol ALPHA comes with a 4.7-inch edge-to-edge 720p HD display, and a 1.2 GHz quad-core processor packing 1GB of RAM. All of this is tucked inside a 7.5mm thin and super comfortable aluminum shell. We're really liking the design and texture on the back, too. The new 3D diamond-cut system for the frame was impressive, and the overall build quality was as well. Something we didn't expect from Alcatel.
The bottom was our favorite part, and a nice touch. It's made of something that isn't plastic or glass, and the entire top has the same design. On bottom there's three LED's in the translucent design that glows for notifications. And makes the phone appear to almost be floating. It was rather neat to see in action. However, the 3 Android navigation buttons you see in the pictures didn't actually function, as they were on-screen where the black bezel is. So we were a bit confused.
Overall it rocks 16GB of storage, an 8 megapixel rear camera, and sadly only a small 2,000 mAh battery. The specs are middle of the road, but this was a step up for the company, and we like where they're headed. Oh, and we can't forget the Android 4.2.2 Jelly Bean on board, which ran as expected even with the UI skin completely customized. More pics below and a video is coming up quick.