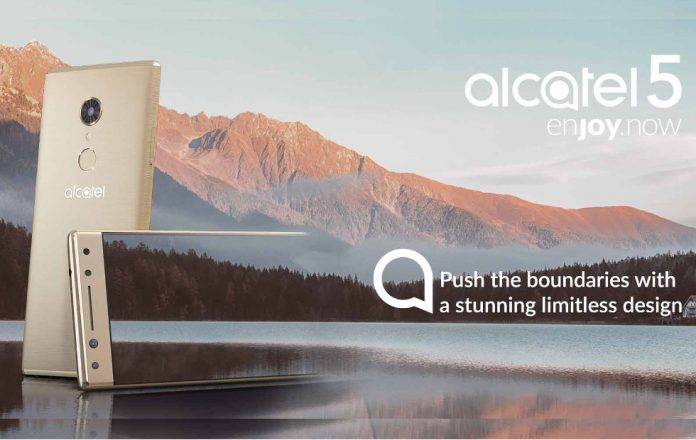 At CES last month, Alcatel promised a redesign of its smartphone line that would see it put 18:9 screens on every smartphone tier, from the highest down to the lowest. At MWC 2018, it is making good on that promise. From the first Android Go Alcatel 1X phone up to the classy and smart Alcatel 5, the company is offering the latest design trends in the market for less. But if you go with the Alcatel 5, you might actually be getting more than meets the eye.
Although the highest of the four new phones announced at MWC, the Alcatel 5 isn't exactly what you'd classify as "high-end". Powered by a 1.5 GHz octa-core MediaTek MT6750, with 3 GB of RAM and 32 GB of storage, you wouldn't exactly classify it as a powerhouse. And that boasted 18:9 screen? That comes in a 5.7-inch HD+ 1440×720 IPS panel.
You might even be disappointed to find out that the Alcatel 5 only has one camera on its back, though it's a serviceable 13 megapixel f/2.0 PDAF shooter. It, however, makes up for it with dual cameras on the front, another 13 megapixel f/2.0 sensor paired with a 5 megapixel super wide-angle camera. And here's where the smartness starts.
The Alcatel 5 is equipped with a few intelligent features that, while not AI-powered, does make sense upon further reflection. For example, the camera app will automatically switch to a wide-angle selfie when it detects more than one face in the view. The smartness doesn't stop there either. Almost all fingerprint sensors can store up to five fingerprints at maximum. The Alcatel 5 utilizes those five so that you can use each one to launch a different app or service. Pretty convenient, provided you remember which finger does which.
The Alcatel 5 sports a unibody with a brushed metallic finish to make it look more premium than it really is. The price tag, however, gives it all away. The phone is now available in select markets, in Metallic Black or Metallic Gold, for 229.99 EUR ($283).