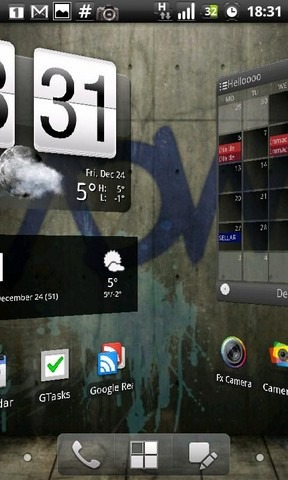 We all know how many home screen replacements continue to hit the android market, a whopping 36 and counting. Each with their own levels of functionality and cosmetic differences, they suit our devices up to meet our own personal needs. Ander Webbs has released his latest home screen replacement ADW Launcher EX for the low, low, lovely price of $3.30.
It adds excellent smooth scrolling, something that was just missing from the previous versions. Also added was a 3D application drawer with 5 unique styles and desktop navigation animations, features not yet offered by my previous favorite, LauncherPro. Another great improvement is the ability to rename each individual icon whatever the user wants, for instance the Messaging app's "Messaging" can be changed to "Texts".
If you are familiar with HTC Sense, you may have stumbled upon the ability to make desktop "Presets" for either work, school, recreation etc. ADW Launcher EX takes this handy tool and implements it just as Sense UI did. All in all, this homescreen replacement functions great.
https://www.youtube.com/watch?v=KD5WD-HDagM
[Via Lifehacker]