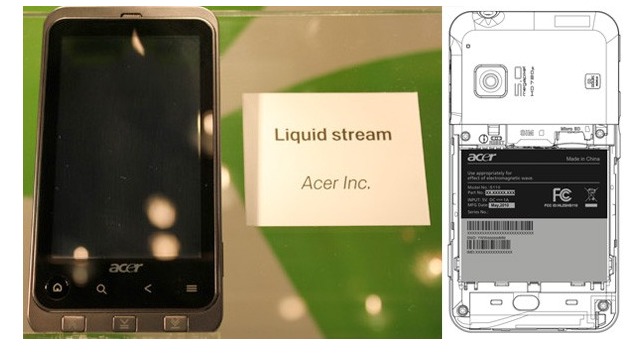 This device popped up out of nowhere at last week's Google I/O. it is called the "Liquid Stream" by Acer. And it will be the next release in the "Liquid" series from Acer.  Recently, it received approval from the FCC with AT&T capable bands (850 1900 MHZ).
This phone is rumored to be running Android 2.1 and is powered by the famed 1GHZ Snapdragon processor. Hopefully, when it's launched it will come preloaded with android 2.2. It has a 5 megapixel camera capable of 720p video capture which match the "5.0 Megapixel HD 720p" that is found in the FCC filing.
So far the rumored release date is sometime in October, by then "Ginger Bread" will almost be ready for prime time. It's a strong possibility that we will see this device here in the states, Acer has yet to release their first official Android device here. Unfortunately for some this is another touch based handset but it does have a few hard keys at the bottom of the device. We'll report more as it comes in, stay tuned.
[via engadget]