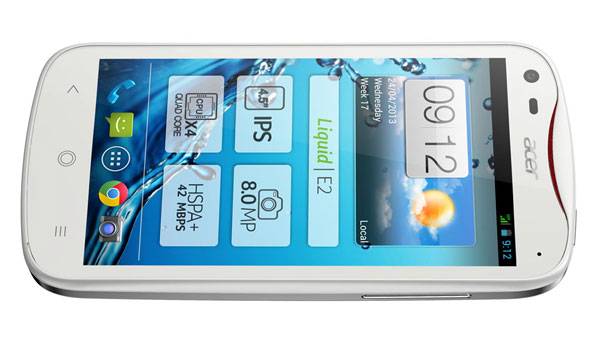 Acer has officially unveiled its latest smartphone offering running the Android operating system. The smartphone is called the Liquid E2 and is the first quad-core smartphone from Acer to feature optional dual SIM card slots. Having two SIM card slots means that users have the functionality of two mobile devices in one easier to manage handset.
The smartphone operates on HSPA+ networks at up to 42 Mbps. The mobile phone also features an eight-megapixel rear camera promising a zero shutter delay. Having no shutter delay means that you can take a picture of exactly what you see, which is particularly important if you're trying to shoot fast action.
The smartphone features a 4.5-inch qHD capacitive touchscreen and a two-megapixel front camera. Acer integrates Wi-Fi, Bluetooth, an FM receiver, GPS, and a microSD card slot for storage expansion. The smartphone can also be had with a single SIM card slot.
Other features include integrated accelerometer, and e-commerce, light sensors, proximity sensor, dual front stereo speakers, and a 3.5 mm audio Jack. The sound system for the smartphone supports DTS Sound and features Moodagent to create playlists based on the user's mood. The Liquid E2 will be available in Belgium, Netherlands, Ukraine, France, Spain, UK, Italy, Germany, and Russia in the middle of May starting at €229. The phone will be available in black or white colors.
[via Acer]