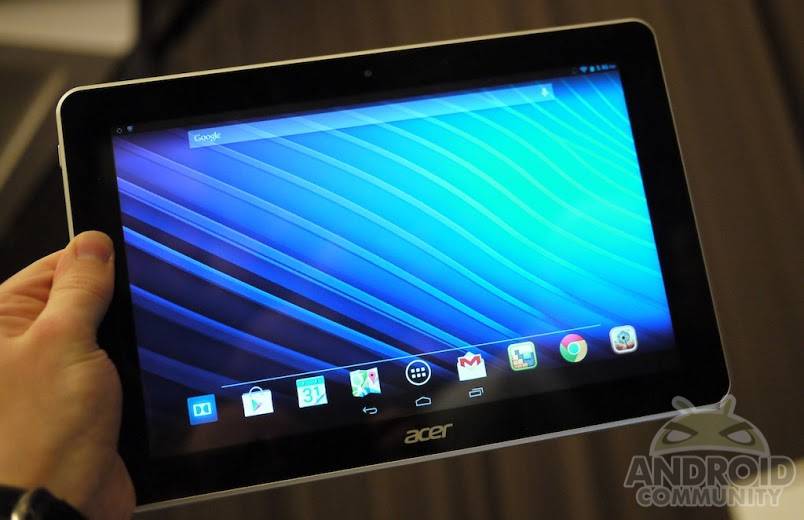 Earlier this week right before the IFA tech event kicked off in Berlin, the folks from Acer announced a slew of devices. One being a brand new 10-inch budget Android tablet, and we have our hands all over it to see if it's worth your hard earned cash. Below we're giving you a quick look at the newly announced Acer Iconia A3 slate.
With powerhouse quad-core Tegra 4 tablets and the Nexus 7 flooding the market, Acer is taking a different approach. Even though we're not hearing anything about a US release yet for this particular device, it's worth looking at. So, lets break it down. The Iconia A3 sports a 10-inch standard 1280 x 800 resolution display, and is powered by an aging and unknown Cortex A7 quad-core running at 1.2 GHz. So certainly nothing special, but at least it won't cost an arm and a leg.
The A3 is all about entertainment in the living room, according to Acer, as it sports some neat new audio tweaks and Dolby Digital Plus virtualized 5.1 channel surround sound. Add that to the two side speakers for a great audio experience, then HDMI-out to stream to the big screen. The Android 4.2 Jelly Bean slate has 16 or 32GB of storage, 5 megapixel camera, WiFi, and a 3G model is reportedly coming.
So how is it? Mediocre at best. This is a budget slate with mid-range specs, and is aimed at being a wallet-friendly device to enjoy on the couch or the kids TV room. The build quality overall was decent from our limited time with it, but it wasn't anything mind blowing. The speakers actually got quite loud, even in a room such as this here at IFA in Berlin, and we're guessing it will sound even better in the privacy of your own home.
It wasn't the lightest being over 600g, but the 10.5mm thin device felt pretty good in our hands, if not a bit chunky. We're hearing a mid October release for €249 in Europe, Middle Africa and other regions. We'll update when an official release date is announced.