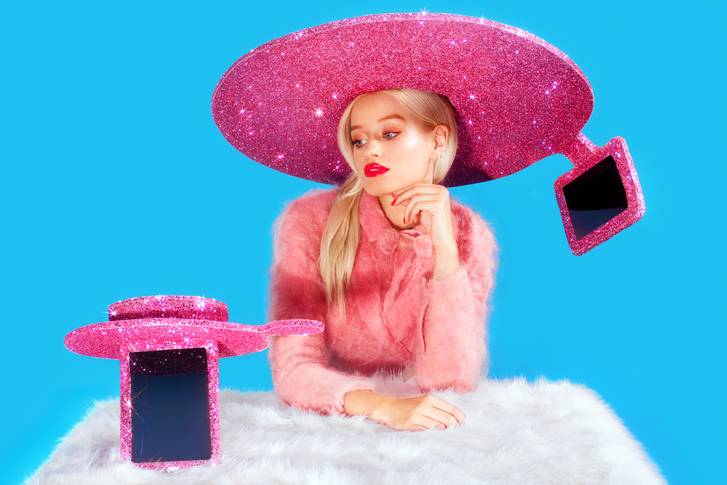 If you thought that those ubiquitous selfie sticks (monopods, to be exact) and the idea of selfies in general are highly annoying, then you better brace yourself for the latest marriage of gadgets and "haute couture". Yes, it is real: there is now a hat that will help you take selfies. Meet the Acer Selfie-Hat (what else would it be called), their latest creation made especially for the London Fashion Week.
It's not just any hat, mind you. It's a huge, hot pink, sombrero-type creation that can spin 360 degrees and has a holder for the Acer Iconia A-1 840 tablet which you can use to post pictures and videos on Facebook, Instagram, Vine or whatever app of your choice . And the hat would look just at home on stage at a Lady Gaga concert. In fact, the designer of the selfie-hat, Christian Cowan-Sanluis created something similar that Lady Gaga wore in New York earlier this year, and it seems to have come from that bright pink ensemble. There is also a smaller version, or rather a case/sombrero for the Acer mini since the hat will not fit any human head (maybe a dog).
According to a press release from Acer, the selfie sombrero can help you find the best angle to take your picture, the best expression to make, as well as help you "understand lighting" so you can create "the perfect social media moment." Much has already been said about how the popularity of selfies has given rise to even more narcissism online and offline, and this loud selfie hat can add "exhibitionism" to the list of sins they will perpetuate (or self-expression, if you want to look at it from another angle).
But don't worry just yet. You won't be witnessing an attack of pink sombrero wearing selfie-takers just yet, as you will only be able to purchase it through appointment starting September 12 at the designer's fashion presentation during London Fashion Week. You can try it out and then get a consultation with Cowan-Sanluis. No price tag has been announced, so let's just hope it is something not affordable to the average selfie-addicts.
VIA: Pocket Lint