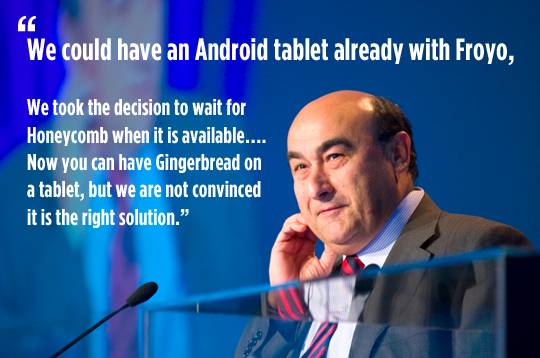 Just before Thanksgiving there was a blast of announcements about tablets Acer would be releasing, all of them set to be released not upon announcement, like some companies I'm sure you can think of, but in the future when Android's Honeycomb OS is available. Speaking with the fine folks over at Mobilized (by Ina Friend), he let the world know that although they could, right now, release a slew of tablets with Froyo or soon Gingerbread, they've decided to hold back until the tablet-based OS is ready to go. He also noted that "when it comes to productivity," he sees "full-blown" Windows as everyone's best option, noting how their new dual-screen tablet will feature Windows 7.
When asked about their mainly PC based business in the US and broad mobile range abroad, Acer's Lanci answered with an affirmation that they see mobile as the biggest opportunity "in terms of growth." He notes that they want to be a global provider of not only netbooks and notebooks, but smartphones and tablets as well, any kind of mobile "from content creation to content consumption."
Lanci mentions that Acer has started their smartphone business in Europe, is starting with some US operators and is starting with some Chinese operators. Again, Acer wants to be a gigantic smartphone company, today mainly based in Android but working on Windows Phone 7 as well. When asked why when Acer started into smartphones they considered Windows Phone, went with Android, and are now working with both, Lanci noted that when they began thinking about doing mobile phone operations, the experience with Windows Phone just didn't have the prospects that Android was already delving into. Now, today, he says, Windows Phone 7 has the same customization opportunities, and that's good. Furthermore, Acer he says is working with Meego, and you'll be able to see something come of that in the second half of next year (2011.)
Lanci confirms that Acer is still working on a Google Chrome OS netbook, but that as everyone knows Google has had some delays, so "we need to wait and see." When asked when and why, he simply said that a release date is "unpredictable" and that "better user interface" and "better integration with other Google applications" were and are to blame for delays.
When asked about how Apple is influencing the market from where he can see, Lanci spoke on how Apple, he sees, influences the market on one side, but that there's always room for improvement on the other. He mentions with Flash at the launch of iPad, screen resolution, touch, and view angles, and how "with Android products we will fix that." He also mentions how 10 inches will be the standard tablet screen size, "but also seven inches can be a good offer for the user."
Lanci speaks on batteries, noting that Acer currently has a full range of notebooks and netbooks that have around eight hours of battery life, but that twelve hours will be the optimal solution for users of the future. In addition, he speaks on 3-D screens:
I think we are going to do the same on phone, even on tablets. If you think about gaming, 3-D gaming has becoming quite popular. If you think about a 3-D tablet, you can play games. We are working on 3-D on a lot of things.
And when pressed with the idea that Acer is basically the only one aggressively pursuing the 3-D market, he replied:
When I look at notebooks or hardware, the number of companies doing innovation are not too many. I think we are one of the few companies left focused on innovation. This is maybe the reason why you don't see it.
Sounds like a flat market to me! Maybe a few sweets will tasty it up, attract some bees and ants.
[Via Wall Street Journal's Mobilized]