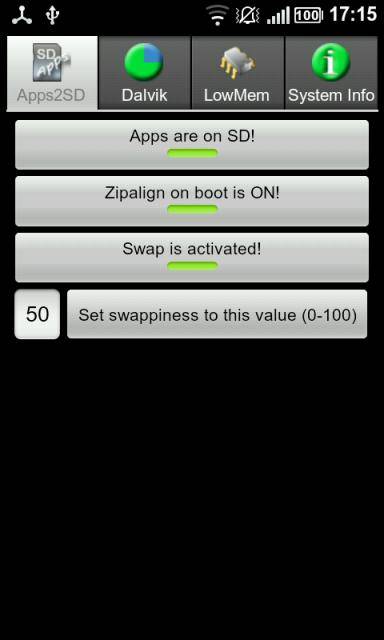 For those that are fans of Darktremors A2SD scripts this will surely make you happy. For those that don't know, Darktremor is an excellent developer from XDA that has built the scripts that are most widely used in the Android community to move apps to the sd card. Mainly for older devices, pre Android 2.2 devices, or for power users like me that have 200+ installed apps. Yay! This story is about another XDA dev by the name elgubbo, he has created a user interface for A2SD that makes everything much easier for you.
A2SD was extremely popular before Google released the App2SD feature that was integrated into Android, before that users had to manage what apps they needed and wanted, my G1 days were rough until I got the A2SD scripts on it, then I installed whatever I wanted and needed. Then things were much better after that. Now most phones come with over 1GB or more of app storage so this isn't an issue. The same amount of apps that filled my Nexus One, now don't come close on my MT4G. It has around 1GB free still.
For the hundreds of thousands of users that still need Darktremors A2SD I present you with a UI that makes everything extremely easy, gives instructions, and shows graphs on memory level. I would have loved to use this back when I had my Nexus One. Here is a list of a few of the amazing features this app has integrated.
Features:
– Show where apps are stored and Toggle from internal to EXT
– Show if Zipalign runs on boot and Toggle
– Show if swap is activated and Toggle
– Set swappiness
– Show where dalvik-cache is and move it, EXT
– Enable/Disable Dalvik JIT
– Set Dalvik Heapsize (for now only values between 12 and 32, i do not know if any values in this margin are good!)
– Set the internal Low Memory Killer to different levels (there also is an explanation included, great for older devices)
– German translation
– Now checks for remaining space before moving Dalvik-Cache anywhere (error prevention)
– System Info Screen which shows: free/used ram, free/used swap, free/used internal memory, free/used sd-ext, free/used space on /cache/ (more things to come …)
– a2sd beta is support
– (rudimentary) helpmenu with manual ability to check for updates.
Known Issues:
– SD-EXT sizes > 1gb are not properly shown in sysInfo tab (fix in next version)
– tell me please if you find any
Requirements:
– A working version of Darktremor A2SD script installed, version 2.7.5.2 and above supported.
– My GUI App
Download:
v0.8 Here
Looks pretty amazing to me, right. Now remember, always do a Nandroid Backup before changing large things like this. I also recommend saving all important app data with Titanium Backup before just to be safe. Don't want to loose the save game data for that new Angry Birds Rio do you?
[via XDA Forums]