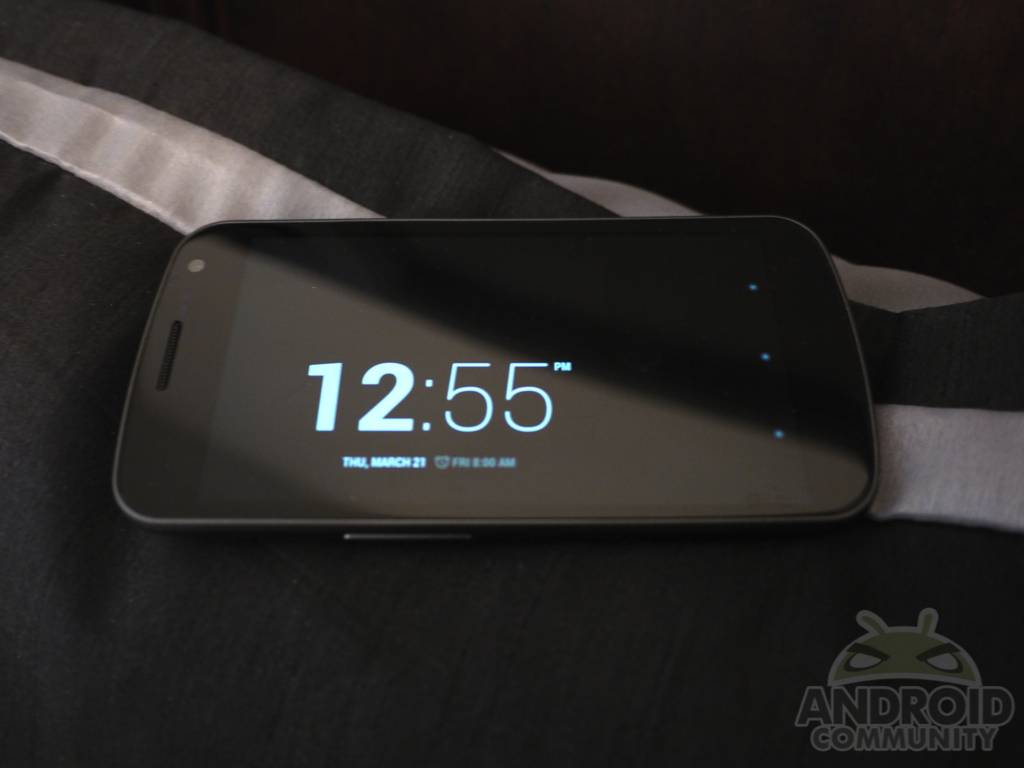 Alarm clock apps and utilities on Android are a dime a dozen, and finding one that works best for you comes down to how you would like to be woke up. We no longer use our bedside alarm clocks, and instead Android apps have taken over. With so many available we figured a round up with four of our favorites were in order. If you wanna wake up in peace, or have an app that will make sure you're awake – keep on reading.
After being violently pulled from a rather awesome dream last week with the usual annoying alarm sound that made me want to throw my phone, I decided to check out a few viable options. The stock Android 4.2 Jelly Bean alarm is decent but we found more than a few awesome alarm clock apps worth sharing. These are in no particular order, but I'm really enjoying Gentle Alarm lately.
doubleTwist Alarm
The folks from doubleTwist are known for their music app, but they have a pretty impressive Alarm clock too. It's neat, simple, clean, and yet offers a few little customizations. You could call the simple design Holo-inspired, and the medley of calm tones to awake to are nice. You can set multiple alarm, reoccurring alarms, and modes support: Time, Sleep Cycle, Quick Nap, or Sunrise (no thanks, that's too early).
You can choose the tone or medley you'd like as well as having an adjustable fade-in option so you're not getting blasted when all you need is a cup of coffee. Then of course custom labels, snooze duration, and even a Swiss Clock live wallpaper is included. It's worth checking out but will cost ya. Get it and give it a try.
doubleTwist Alarm Link – $1.99
WakeVoice Alarm
WakeVoice vocal alarm clock might not have anything too fancy like doubleTwist, but it will recognize your voice when you wake up and read out a few user-configured things. Once the alarm is turned off manually or with your voice, WakeVoice then begins reading out the weather, daily news, your personal horoscope (if you're into that) your favorite radio station, or even calender events coming up. Genius right?
Waking up to a personalized greeting or news feed surely is awesome, not to mention they have a free trial version you can try out before paying for the full version. You can and probably will want to replace the stock voice too, so give it a try.
WakeVoice Alarm Link – $2.99 or Free
Gentle Alarm
Next we have Gentle Alarm because there's no better way to wake up than gradually waking up from a natural sleep pattern. Doing this you might be able to skip the coffee altogether, but I sure won't be. Gentle Alarm is rich full of features, options, settings, and customization. Essentially you have 3 alarms. a 30 minute pre-alarm that is only loud enough to wake a light sleep, that will otherwise keep you relaxed until the main alarm 30 minutes later.
The main alarm can be gentle and relaxing sounds, their own list of tones, or even MP3s from your private collection. Then of course Gentle Alarm offers a "fail-safe" alarm that is loud and obnoxious should the regular ones fail. You wouldn't want to be late for work. There's also a free version, and full features costs ya $2.66.
Puzzle Alarm Clock


Okay. Now for you deep sleepers where a regular alarm, or especially the gentle alarm won't work – we have the Puzzle Alarm Clock. This won't stop bugging you until you've solved some puzzles or use an NFC tag to shut it up. Once this alarm gets a buzzing you'll need to solve a puzzle (randomized) with math equations, memory cards matching, captcha codes, patterns and more. You can have it set to just make you solve one, or up to 5 in a row. This sounds awful.
Well for me this sounds awful, but if you're a person that has a terrible time waking up and a standard alarm doesn't work – this should surely help you out. I'd probably throw my phone through the TV before answering 5 math equations, but to each his own. The app is completely free and more features can be unlocked for $1.99.
That was just a few of the many many clock and alarm clock options available for Android today. While we're sure we missed more than a few, these are just a couple of our favorites. Drop us a comment below with what YOU use to start your day!