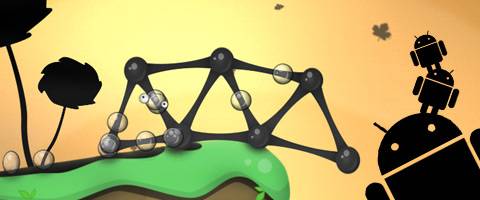 World of Goo, the popular 2D indie game that's a fan favorite on PCs and consoles, will soon cover everyone's favorite little green robot. Developer 2D Boy revealed the news today on the company blog, calling the game "GooDroid" – though that probably won't be its official title. A release date was not given, but the developer notes that they're finishing some bug fixes in preparation for the release.
The game has quite a following, and is a certified hit on Steam, the Xbox's XBLA download service and iOS. The general premise is that you create simple architectural structures by placing balls of goo on the screen, achieving new goals in each level. Though 2D Boy is an independent developer, they've done an amazing job – the PC game sits with an impressive 90% positive Metacritic score and has 4.5 stars on the iTunes App Store.
2D Boy is quick to point out that both phones and tablets will get in on the gooey, delicious action. The iOS version of the game costs $3 and $5 for standard and HD versions respectively, but the Android version may use a free, ad-supported model, like Angry Birds. We'll keep a close eye on World of Goo as the release date nears.
[via DroidGamers]