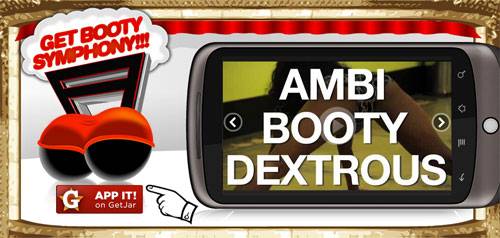 If you like Android, T-Pain, and booty, you have hit the app lottery today. T-Pain and his label Nappy Boy have launched an app that is called Booty Symphony that I would bet you could guess the major feature off simply from the name.
The app has various ladies shaking that booty and comes with three sound boards that are made from beats of three popular tracks from Nappy Boy including "I Support Single Mothers", "I'm a Freak", and "Pont 'Em Out." You can mix and record you won 30-second music video using the jiggling bums on the screen.
Once you use up all the booty the app comes with and need more you can shoot your own booty video and use it in your videos. The video can be shared on YouTube and on other social media too. You can get free and paid versions of the app right now on GetJar.