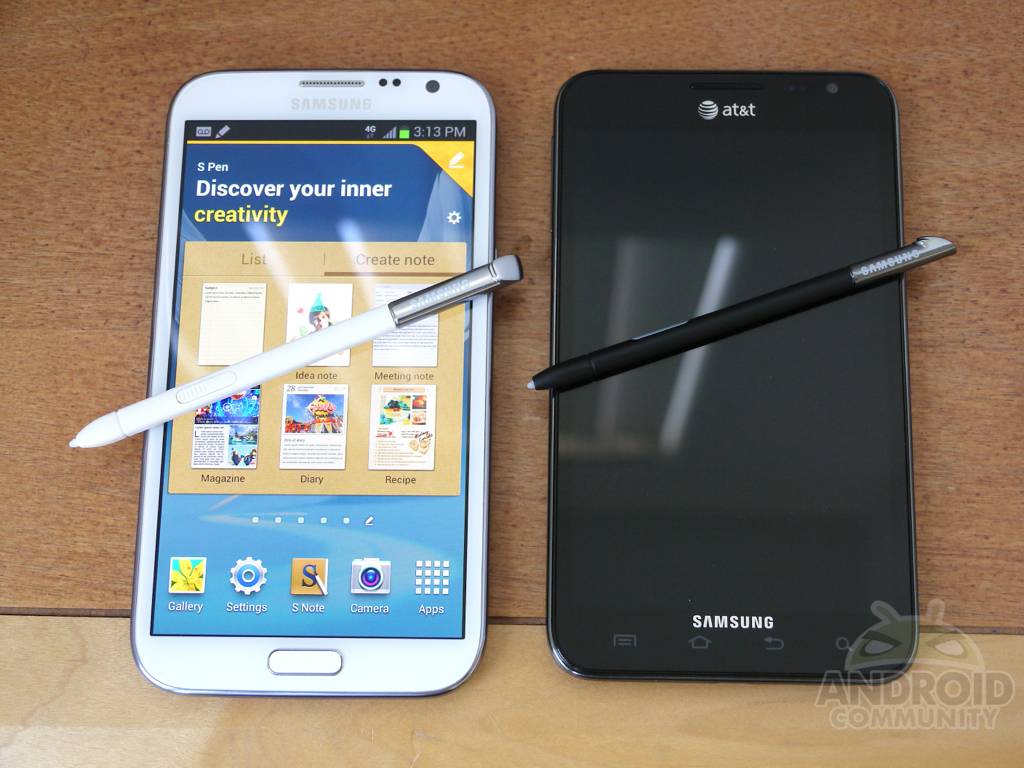 If you've been eying the new Galaxy Note II, or the original, we have a great comparison video showing both. Today T-Mobile announced Samsung's new Galaxy Note II tablet smartphone hybrid is available right now in stores and to give you an idea on what to expect over the original you'll want to head below for pictures, details, and of course some hands-on video.
Samsung's Galaxy Note was quite the device when it first launched. Starting the "phablet" trend as many like to call it. Having a massive 5.3-inch HD display and stylus S-Pen for taking notes, drawing, cropping images and more. To start take a peek at our original Galaxy Note Review, then enjoy our brand new T-Mobile Galaxy Note II Review for a full idea of what you're in for.
The video below will go over the hardware, software, and design differences in detail so for now we'll just run down the hardware differences. The original Note comes with a 5.3-inch 1280×800 HD Super AMOLED display, Android 4.0 Ice Cream Sandwich, and is powered by a 1.5 Ghz (1.4 internationally) dual-core processor, 1GB of RAM, 8 megapixel camera and a 2,500 mAh battery. It is available in the US on AT&T and T-Mobile. The Galaxy Note II, available on 5 major carriers soon features a 5.5-inch 1280x720p HD Super AMOLED display, Android 4.1 Jelly Bean, and is powered by a Samsung 1.6 GHz quad-core processor, doubled to 2GB of RAM, 8 megapixel camera, and a larger 3,100 mAh battery. Without doing much more explaining enjoy the video below.
As you can see the Note II has been improved in basically all areas of the phablet. The screen is bigger without making the device larger, the processor is much improved, they've doubled the RAM, improved battery life and size and more. Overall we're loving the new Galaxy Note II, and can't wait to enjoy that 5.5-inch HD display with some 4G LTE power under the hood. Until Jelly Bean arrives for the older Note, the new Note II features an improved TouchWiz user interface, and of course Android 4.1 Jelly Bean for enhanced performance.
Samsung has made huge strides in not only the hardware, but also the software of the new Note II. With a better stylus, enhanced S-Pen and S-Note apps, airview for a PC cursor like experience, airview previews and tons of other improvements they've made both elements better this time around — which they should with version 2. The video above, as well as the pictures below should provide everything you need to know about these two devices, and if the higher price is worth it for the Note II.
If you can get over the sheer size, the Samsung Galaxy Note II is absolutely excellent and certainly worthy of an upgrade. Thoughts on the Note II?
[device id=3362]
[device id=2241]