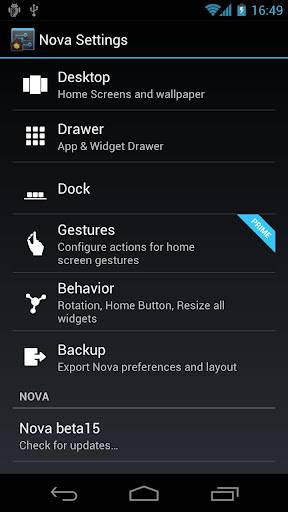 Everyone's favorite home screen replacement for Android 4.0 Ice Cream Sandwich is finally ready for the prime time. The extremely popular Nova Launcher has finally left beta and is available for everyone now in the Android Market. Along with tons of improvements they are offering a fee, and a paid version for those wanting extra features and to support their developers.
If Nova Launcher or home screen replacements in general are new to you, they make the entire face of your phone feel new and different. Nova works only with Android 4.0 ICS but brings so many tweaks and customization you're going to love it. Here is just a small list of some of the features in the free version.
–Custom Grid
Configure the rows and columns to fit all your app and widget needs.
–Scrollable Dock
Keep all your favorite apps on the dock, with up to 7 icons per page and up to 3 pages.
–Scroll Effects
Enjoy eye candy when scrolling your desktop and drawer. Effects include Cube and Cardstack and more for Prime users.
–Infinite Scroll
Never be far from your favorite page, loop through your desktop continuously.
–Folder Icons
You can chose a background, preview style or even replace the whole icon.
–Backup/Restore
Export your settings and layout before a wipe to quickly get back up and running.
You can enjoy all that Nova has to offer today on your Android 4.0 device with either the free, or paid version of the application called Nova Launcher Prime. The paid version offers gestures, hiding apps from the tray, Swipe controls in dock and more. Both are available now from the Android Market by clicking here.
[via Phandroid]