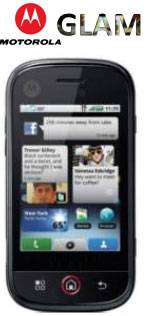 If you travel a lot and need a phone that can support dual SIM cards Motorola's dual-SIM packing Glam XT 800 might be just what you need. The Android-powered smartphone has a slot that will work with any CDMA SIM card to get you connected for voice and data anywhere you might roam.
The other SIM card slot holds a GSM SIM card. The smartphone has a 3.7-inch touchscreen with a resolution of 854 x 480. The screen has Gorilla Glass over the top and supports multi-touch. It also has GPS, HDMI output, a 5MP camera with dual LED flash, and 5x digital zoom.
The smartphone also has Bluetooth, WiFi, 3G data, GPRS, geo tagging capability, and integrated image stabilization. The phone has Android 2.1 onboard and a 1390 mAh battery inside good for over five hours of talk. The phone has 32GB of storage as well and a 550MHz processor.
Via Amitbhawani