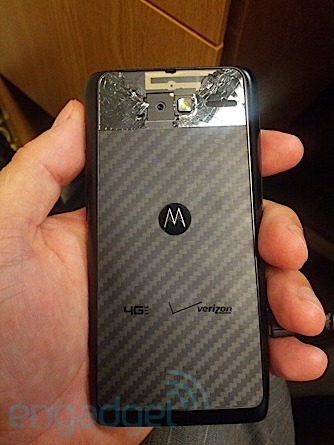 Motorola's upcoming DROID RAZR M 4G LTE device for Verizon Wireless just can't stay out of the cameras wandering eye. After countless leaks the past few weeks today we have our best look yet. A quality HD video showing off the new smartphone has been leaked to the folks over at Engadget. The phone looks good on video so check it out below.
This 4.3-inch qHD smartphone will be powered by Qualcomm's 1.5 GHz dual-core Snapdragon S4 processor which the leakster called "fantastic." He also mentioned that the device had a battery big enough to last more than all day even with full 4G LTE usage. That sounds good to me right about now. While we don't expect this to have a huge RAZR MAXX or DROID RAZR HD sized battery — Motorola's been keeping that area top notch.
If you'd like to see the new DROID RAZR M show off it's snazzy new boot animation, Android 4.0 Ice Cream Sandwich, settings menu and more head to the Engadget link above for the leak.
As you can see from the images below the device looks rather impressive. We've been told the rear 8 megapixel camera is pretty excellent but as you can see the housing managed to get in a fight, and it lost. It's completely broken and hopefully that has been changed in retail units. The device will also have a 3 megapixel front camera that should beat most smartphones for video chat. Earlier this week we saw a silver or white trim finish, possible aluminum but for now we'll just have to wait for the September 5th event where Motorola will unveil what they've been cooking up. Stay tuned as we'll be there live.