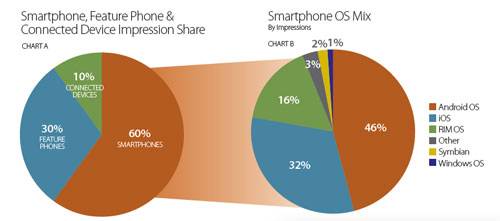 Millennial Media has offered up its latest round of stats for the mobile phone market covering December of 2010. The latest round of numbers shows that Android devices occupy 16 of the top 30 spots for the most popular devices. That number was up from 11 of the most popular devices in November.
The most popular individual smartphone for the month was the iPhone with the Blackberry Curve second, the HTC Nexus One took fourth, and the Droid was fifth. The top manufacturer for the month was Apple, them Samsung, HTC, RIM, and Motorola. You can bet that many of the devices sold by HTC and Motorola were running Android.
As far as the device and OS carrier mix goes, 60% of the impressions for the month were from smartphones, 30% from feature phones, and 10% for connected devices. On the OS side the most impressions came from Android devices with 46%, iOS had 32%, and RIM OS had 16%.