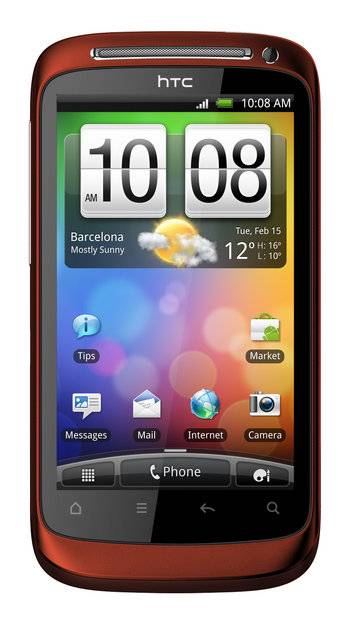 What a brightly colored experience you're about to have! The folks at HTC have deemed the color red to be so fantastic that they've officially dubbed their Desire S ready to wear it all the time! That's right, those photos you may have seen a short while ago were real, and Vodafone is the exclusive holder of such a flamingly bright device. Can you dig it? Or is it too massively blastingly fantastically bright for your eyeballs?
You'll notice by the spelling of the word "colour" that this device will be in Europe first. We're hoping for more of this wacky color-coding to be taking place here in the states before too long. Got to make sure everyone can feel like they can choose what their phone looks like without adding a case, right? I hate to mention the competitor, but Apple got wise on this when they made their "official smart covers" in multiple colorings. What do you think about that?
Thusly there's a small spattering of color here or there – most notably in the relatively recently released Sidekick 4G on T-Mobile, a phone made quite obviously for the Hipster generation, a group of people who love their colors to be bright. The insides of every Android phone have the ability to be utterly bright – does it make sense that the outside should be bright as well, or should they be like frame for artwork, blank and sparse to show off the POP art inside?
What do you think? How many more question marks would you like?
Also check out our sister site SlashGear's review of the Desire S in original stinky blue.
HTC Desire S in red –now available exclusively on Vodafone

The HTC Desire S in now exclusive to Vodafone in a vibrant red colour.

The device boasts a slim and stylish design shaped from a single piece of aluminium, making it feel more solid than the HTC Desire – and lighter too. This new smartphone has an impressive 3.7" touchscreen; a 1.3-megapixel camera on the front and a 5-megapixel camera at the back able to shoot HD video with full SRS surround sound. The HTC Desire S has a 1GHz Snapdragon™ processor inside and is powered by Gingerbread, Android's latest smartphone operating system.

Free on £30, 24 month price plans including 600 minutes, unlimited texts and 500 MB of mobile data (when purchased online.)

Specifications:
Dimensions (mm) 115x12x60
Weight (g) 130
Standby time (hours) 430 (max)
3G standby time (hours) 455 (max)
TouchScreen Resistive/Capacitive
Processor 1GHz
Screensize (inches) 3.7
Talk time (hours) Up to 9 hours
3G talk time (hours) 7 (max)
Internal memory 1.1GB
Operating system Gingerbread