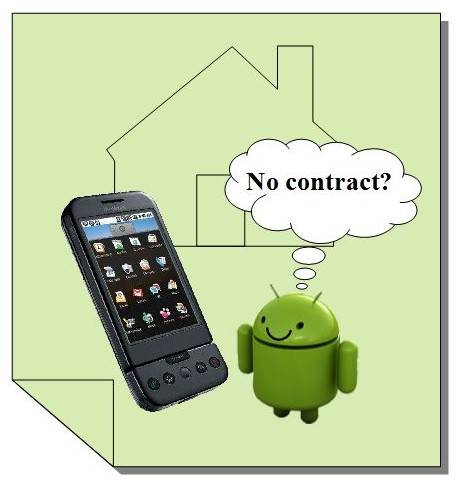 T-Mobile has been turning several people away who are trying to purchase a G1 without signing a 2 year contract. T-Mobile stores have been instructed not to sell the G1 without at least getting a data plan contract signed because of the projected demand for the phone. Many people have approached us who would like to purchase a G1 without a contract, but T-Mobile simply would not sell it to them.
The guys over at Love For Biz were able to convince a T-Mobile store in their area to sell them one after sales were not so good for the area. They report that there is no need for a store activation, the phone can be activated from home if you wish. The hard part is persuading a T-Mobile employee to sell one to you without a contract. Here are the steps to activating a T-Mobile G1 without first having an activated SIM card. (Note you will need to borrow and activated SIM card for only a few minutes.)
1. Insert friends activated T-mobile SIM into G1 along with battery
2. Power on and wait for setup screen
3. Go through setup process to link any Gmail account
4. Go to Settings > Wireless Controls > Wi-Fi Settings > Enable Wi-Fi
5. Connect to nearby Wi-Fi network if one is available
6. Optional: Stop the phone from syncing with Gmail account by going to Data Synchronization and unchecking Auto-sync, Gmail, Calendar, and Contacts
7. Once done, take out friends SIM card and insert unactivated SIM that came with G1
You may also use a prepaid T-Mobile SIM card to activate the G1. We do not see T-Mobile taking any measures to prevent this process as customers are paying the full price for the phone. Another thing to note, if you would ever like to change the Gmail account that was used to setup the G1 a soft reset is required and the process must be followed again.
Photo courtesy of Android Community member heyitsnan.
[Via Love For Biz]