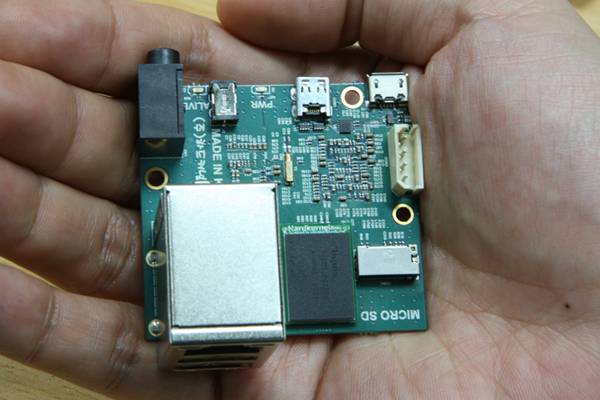 Let's say you're looking to pick up a new dev board, but you're a little short on cash. Hardkernel doesn't think that's a problem, today introducing the world to its new, teeny-tiny ODROID-U and ODROID-U2 developer boards. As you can see below, the boards can fit in the palm of your hand, and they start at just $69, which isn't bad at all.
With that price, you might think that you're getting bottom of the barrel hardware, but the new boards actually come with nice equipment attached. For example, the ODROID-U comes with a quad-core Samsung Exynos 4412 processor clocked at 1.4GHz, 1GB of RAM, quad-core Mali 400 graphics at 400MHz, a pair of USB ports, a micro HDMI port, 10/100 Ethernet, and a headphone jack. That certainly isn't bad for $69.
If you're willing to plop down a little more cash, you can take home the ODROID-U2 for $89. This one features mostly the same equipment, with Hardkernel swapping out the processor in favor of a quad-core 1.7GHz Samsung Exynos 4412 Prime. You'll also be getting 2GB of RAM instead of just 1GB, so there are some significant upgrades with the ODROID-U2 despite the fact that you're only paying $20 more.
Obviously, given the size of these board, there isn't any storage included, so Hardkernel suggests that you pick up a microSD card or an eMMC module to add some flash storage. It's also worth pointing out that the processors found in the ODROID-U and the ODROID-U2 are the same CPUs that are used by the Samsung Galaxy S III and the Galaxy Note II, respectively. Hardkernel says both are capable of running Android and "various Linux operating systems," and they're available to purchase from the company's store. Are you thinking of picking one up?
[via Mobile Geeks]