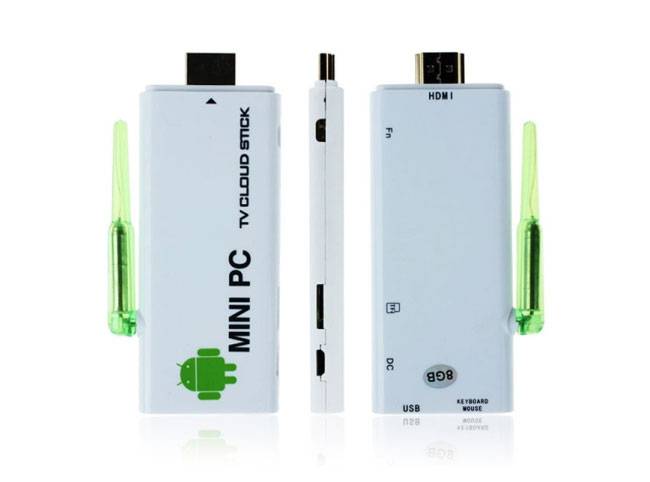 It seems like every time you look around there are a handful of new Android-powered TV sticks debuting. The latest new TV stick packing the Jelly Bean operating system is called the CX-803 II. This TV stick launched this week and features 2 GB of RAM setting apart somewhat from most devices on the market.
Typically, with Android-powered TV sticks you get about half that amount of RAM. One of the most notable visual details of this little TV stick is that it has a translucent green antenna that helps the device get a better wireless signal. The processor under the hood is a Rockchip RK3066 dual-core unit.
That processor is paired with Mali 400 quad-core graphics and 8 GB of integrated storage. The TV stick does have a microSD card slot for storage expansion. As with devices of this sort, it does have a built-in HDMI connector on one end allowing it to plug-in directly to your TV.
The device also has a USB port on one end allowing it to connect directly to a keyboard or mouse. The device supports up to 802.11n Wi-Fi speeds and the device should be able to run Linux if you're the sort who likes to tinker with their gear. You can purchase the CX-803 II for about $70.
[via Geeky-Gadgets]