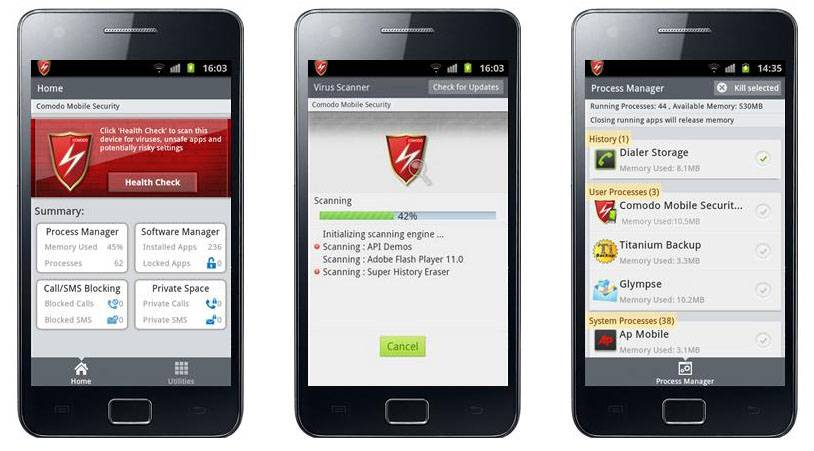 There's a lot of growth in the anti-malware space for Android at the moment, and yet another well-known company is joining the fray. Comodo, maker of the well-known Comodo Firewall and other security software for Windows, has published Comodo Mobile Security  Free AV in the Android Market. The app includes a standard antivirus function and process manager, as well as call and SMS blocking and locking functions for individual apps. Surprisingly, all this functionality is included for free.
The Antivirus function uses the standard definition-based scanner system employed by most pro antivirus software for Windows, and indeed, Android. Users can initiate a manual scan and/or set the app to "always on", monitoring incoming files for potential dangers. The Software and Process Manager is essentially a duplicate of the app manager that's built into Android, though it does display pertinent information along with the ability to "kill" an app and free up memory. Call and text blocking as well as individual app protection using a password round out the package.
It should be noted that all of these functions can be had from other, free apps, albeit not in a contained package. The integrity of free anti-malware software on Android was damaged last year when a report showed almost all of it to be useless, but Comodo is a trusted name on the desktop side of things. The company has earned a fair shake on Android if anyone has. The reality of malware on Android is hard to ignore as user adoption grows in leaps and bounds, and like Windows before it, the antivirus sector is sure to find a growing home on the mobile platform.
[via PhonesReview]