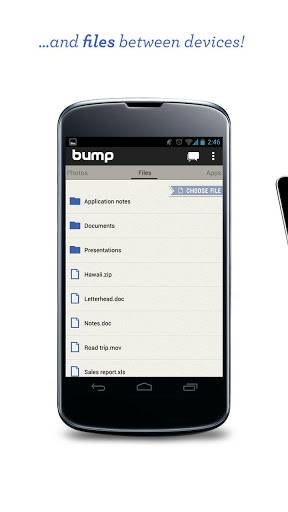 Bump is one of the coolest ways to share stuff from your phone to another device. All you need to do is literally Bump your device against another one and you can send photos in an instant. They even added the ability to send files to your computer by simply visiting its website and Bumping your phone against your spacebar. It's some really cool technology, and it just received a new update on Google Play that makes the app even better.


The new update allows you to share more than just photo using Bump. Now, you can send any file that is stored on your device. You can send videos, documents, spreadsheets, presentations, and more goodies from your device to that of any other Bump users. For sharing files, this is about as quick as it gets.
Bump works cross-platform, so even if you have friend with an iPad or iPhone, you can use the app to send them files. Samsung offers similar features on its devices with NFC, but with Bump, you get a lot more flexibility because you are not limited to just other Samsung devices. If you have not checked out Bump yet, now might be the perfect time.
Bump also points out that it passed 112 million downloads on 12/12/12. That's a whole lot of 12s, and an impressive amount of downloads for the app. This update should help it grow even more, as there are not many easy ways to share files that are not photos on mobile devices.